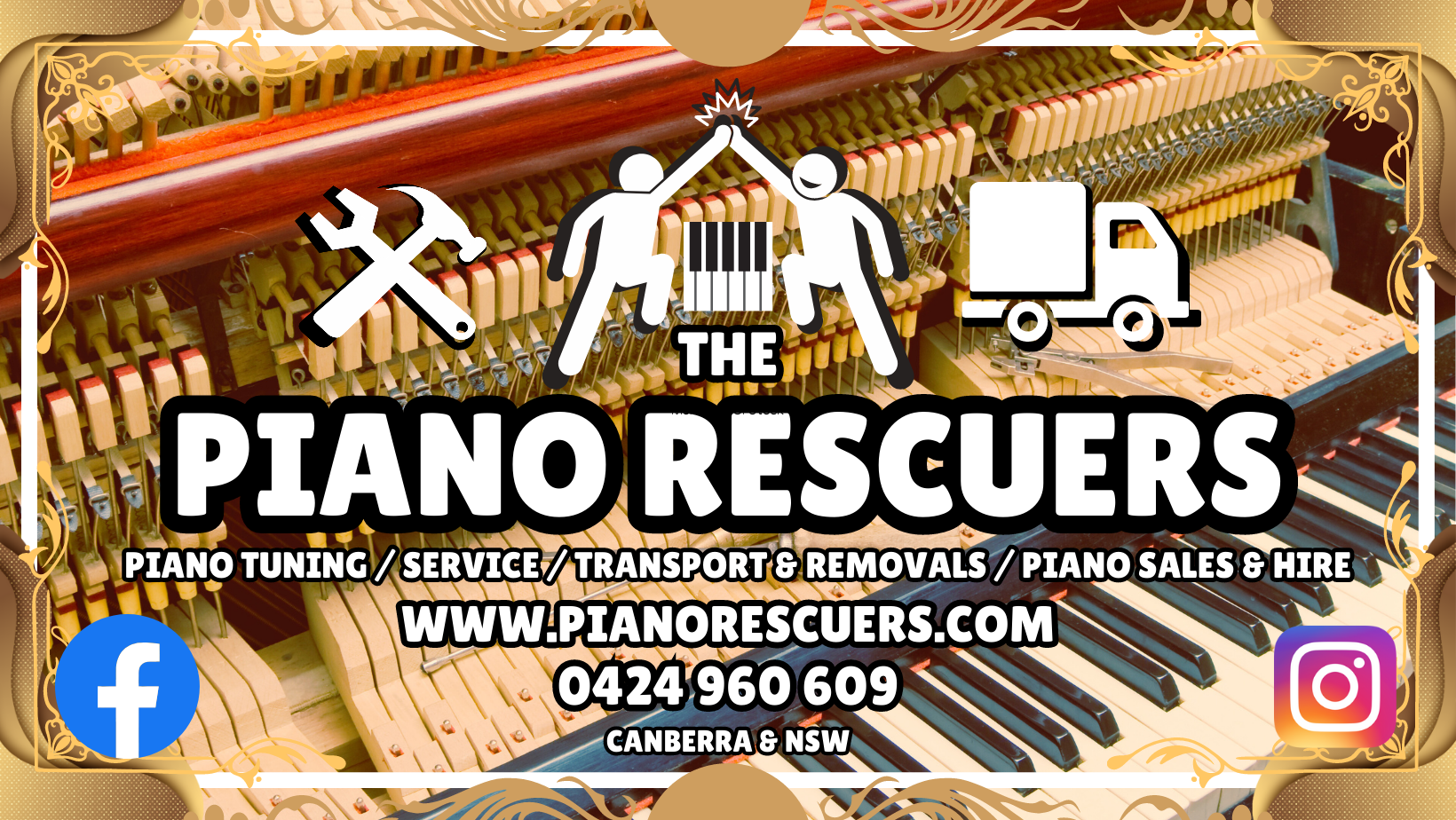 NOTE: Due to overwhelm of the e-mail system, contact is now best done via our Facebook page, or through SMS via Mathias' number 0424 960 609.
ALSO! If you are a member of the ACT Keyboard Association, you will receive 10% discounts on all our services (please mention this if you are)!
🙏 Let us fix it! 🙏
Have you been told your piano can't be tuned, fixed or made playable again etc.? Do you have a piano that needs a full service & tune to be made playable again and enjoyed, even if told it's not possible due to "issues"?
Over the past 2 years, we have received stories and complaints that owners of older pianos are told by various piano technicians (approved by the APTTA, even!) that their pianos cannot be tuned or repaired. This might leave you sad and stranded with a useless piano. And you will still be up for the "fee" to be told it can't be fixed, leaving you upset and sad with a non-working piano...which is why we started this project in saving pianos, investing our own time and money, resources and our piano repair skills...
Have you been told you have a cracked pin board and therefore can't be tuned? Or that an overdamper mechanism is impossible to work with? Or any other reason?
(A loose/worn out or cracked pin board can mean the end of a piano as it can't be tuned, but they can be shimmed to last additional years, especially if this is a family piano you wish to keep and be proud of. Overdampers, aka birdcages, are notorious with piano technicians for being inconvenient to work with, but that doesn't stop us! We're happy to work with overdampers! If anything, spinet underdampers are even more cumbersome to work with, and that still doesn't stop us from bringing them back to life!)
Have you been told the keys are sticky or the action is noisy and slow? Easy fix--this is a matter of skill, time and adjustments to make the action work as good as new again. Action components are seldom serviced nor maintained and not covered in regular piano tuning. This is a huge issue, as over the years of playing piano, action components & screws become loose from heat, and then start creating various clunking and clicking sounds. Especially loose wobbly hammers, cause by loose axles. This can be simply rectified by carefully tightening and resetting all the action components into their correct place.
Now remember: there are 88 keys, at least 240 strings and over 250 screws that need adjusting on the main components, followed by regulation as needed...
🎵🎶 Our complete piano service includes: 🎶🎵
complete disassembly of piano internals
thorough inspection & assessment
removal & complete clean of all piano keys
complete dust & debris clean
checking balance of all the keys
fixing any missing key tops (plastic or ivory)
full tuning & pitch raise
action components service, eliminating any clicking sound
replacement of various perished felts
voicing of hammers
calibration of foot pedals & dampers
shimming cracked soundboards and/or pin blocks
replacing bridal straps if necessary
installing new strings if necessary
installing new castors if necessary
installing/upgrading music stands if necessary
lubricating centre pins
verifying that the piano is fit for the purposes of tuition, learning, practice, performance & recording unless stated otherwise
Note that on a piano that has not been tuned in more than 10 years, a complete pitch raise accomplished with Reyburn CyberTuner and time-honoured aural techniques for fine-tuning are used.
We have currently to date: rescued over 1000 pianos; serviced and tuned over 600 pianos!
With hundreds of happy customers playing their repaired piano, a purchase of a serviced piano from us also comes with a lifetime warranty: complimentary periodic inspections to keep your piano in tip top shape!
We cover all types of services, but typically:
at all times we have at least 15-20 pianos available for sale

usually able to attend to your task within 3 hours

able to offer the highest quality piano service without any rush

we guide, show and tell you everything about the piano and what we are doing

we take the extra step to make sure everything is 101%
👀 Online Inspection - Free, ASAP 👀
Don't want to pay the $150 fee for an in-person call-out & inspection? No problem! Just send us a video of all keys played, and we can do a quick evaluation for you!
🤳 Call-out, Inspection & Insta-Service - $170, 30 minutes 🤳
Need the health of your piano evaluated? Want to know if your piano is suited for the purpose of tuition, learning, practice, performance & recording? Contact us! This service is recommended if you're looking to get a piano expertly rebuilt with our 💎 Diamond Service 💎 found below, or if you need to gauge the health of an instrument & the needs of your skills before investing a lot of money into a more expensive purchase.
⏲ Recurring Piano Tuning & Quick Service - $250, 1-2 hours ⏲
If your piano has been well-maintained within the past 12 months by another technician, or if you're a recurring customer, we can do it all within 2 hours!
🚚 Piano Removal - variable price, 0.25-1 hours 🚚
NOTE: Under normal circumstances, we cannot remove pianos for free as this will endanger our time, liability & truck insurances.
Need your piano taken away or moved to a new location? We can do it for you! We secure all our pianos safe and sound in our delivery truck with a series of dollies, straps and blankets.
🚛 Piano Hire - ask for price, as long as you need the piano for 🚛
Need an upright piano for your gig? No problem! We have a large selection of upright pianos ready to go! If you need a grand, however, get in touch with us and we'll try to work out a game plan!
🛠 Full Pitch Raise & Minor Service - $400, 3 hours 🛠
If you are a first-time customer, or if you have a piano that has been sitting out-of-tune for a long time (lower than A427), it *will* require two tuning passes to get your tuning stable again. This can be accomplished with Reyburn CyberTuner's Pitch Raise mode to accomplish the first pass briskly, followed with a surgical second pass! Easy! 🤗
However, there are some cases where a piano is too old to be tuned to 440Hz safely, in which case, we will opt in for a different tuning standard (400-435hz) to prevent snapping of the strings.
A full dust & debris clean, along with exterior polish are also available upon request.
💿 Platinum Service - $1400, 6+ hours 💿
This service is undertaken by both Mathias and William on-site. While Mathias undergoes servicing of several components, William can tune the piano, effectively saving time by 50%, as it would normally take 10-15 hours if it were to be done by a single person! This service is highly recommended for pianos that have not been serviced in decades.
💎 Diamond Service - $1600+, 12+ hours💎
Due to the intensity of the service, it is possible for jobs to span over the course of 2-3 days, and is thus, executed in installments. This is a great alternative to buying another piano!